The Wieboldt-Rostone House is located at 270 Lake Front Drive in Beverly Shores, just east of the National Lakeshore parking lot at Dunbar Avenue.
The Wieboldt-Rostone House carries the names of its sponsors. Wieboldt Stores (also known as Wieboldt's) was a Chicago department store chain in business from the 1880s through the 1980s. Rostone, Inc., of Lafayette, Indiana showcased its new synthetic stone composite made of limestone waste and shale called Rostone.
This house was built to showcase an affordable and (supposedly) durable new building material. Rostone was available in a variety of colors and shapes, and could be fabricated to exact dimensions. It was billed as durable and never needing repairs. Had the reality actually lived up to its marketing, Rostone would have been a successful material. However, Rostone was not nearly as durable as hoped.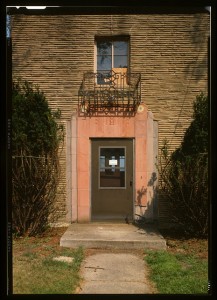 After the 1933-34 Century of Progress World's Fair the Rostone House was barged across Lake Michigan to Beverly Shores and positioned on the lakefront so that its expansive windows faced the lake. Lake Michigan's harsh weather conditions did not help an already faulty product. Within 20 years, the Rostone exterior had severely deteriorated, actually disintegrated. Tenants at the time covered the exterior with a concrete stucco called Perma-stone. Only remnants of the original Rostone remain – at the front door exterior, at the interior foyer and around the fireplace in the living room.
Like the other the World's Fair homes in Beverly Shores, the Rostone House fell into disrepair after being purchased by the government. The former owner-occupants had little incentive to spend money on repairs under their limited lease arrangement.
The Historic Landmarks Foundation partnered with the national park service in an effort to save the Century of Progress homes in Beverly Shores by subleasing the houses to people with historic preservation experience and the financial wherewithal to bring the houses back to their original state.
Rostone is a huge house. At 5,500-square-feet and 18 rooms, it is the largest of the Beverly Shores World's Fair homes. The building housed the Indiana Dunes National Lakeshore offices from 1970 to 1985. The house then stood vacant for 17 years before a lessee that was willing and financially able to take on the architectural preservation was found.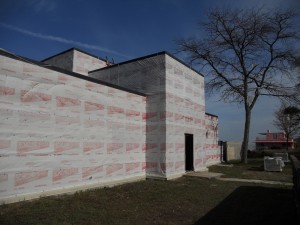 Ross Gambril began working on the Rostone house in 2002. Most of the exterior was removed over the past decade and Gambril has worked to replicate the look of Rostone exterior with a new precast concrete material. Progress has been slow. The house has been a work in progress for the past 10 years and from the looks of things, will continue in this state for quite a few more years.
As far as Beverly Shores architecture is concerned, this structure is a diamond in the rough. Hopefully, I will be able to update this story in the next year or two and report that this big old beauty has been restored.