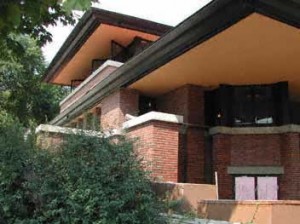 Oak Park, a village less than 10 miles due west of Chicago's Loop, has bragging rights to the most Frank Lloyd Wright structures in the world. Wright lived in Oak Park from 1889 to 1909 and developed his Prairie style there.
Chicago, by virtue of its close proximity, also has its share of Wright designs and structures.
The Robie House, located on the University of Chicago's campus, is considered by some to be one of the most architecturally important buildings in American. Wright designed this building in his Oak Park studio from 1908 to 1910 for businessman Frederick C. Robie.
The Robie House is a Prairie style masterpiece and also a forerunner of architectural modernism. Tours (available Thursday through Monday) allow visitors to experience its contemporary spaces and current restoration work by the Frank Lloyd Wright Preservation Trust to return the house to its original state. Restorations will follow guidelines for the Treatment of Historic Properties established by the Secretary of the Interior.
These tours are taken to a whole new level Fridays in October for after hours events that include drinks, hors d'oeuvres and live music in a casual atmosphere. Wright fans and architecture buffs alike will appreciate these events.
The dates are October 5, 12, 19 and 26 from 5 to 8 pm at the Robie House, 5757 S. Woodlawn Avenue, Chicago. Tickets are $30 for Preservation Trust members and $35 for non-members. Visit http://gowright.org/calendar/69/9663-After-Hours.html for additional information.