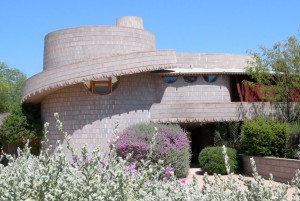 A Frank Lloyd Wright house located in Phoenix, AZ is in threat of being demolished unless Phoenix officials approve a historic preservation designation for the structure. This designation would temporarily extend protection from demolition while historic and Frank Lloyd Wright preservation organizations work to strike an agreement with developers who purchased the property.
Wright designed this house for his son David in the early 1950s. The David Wright House is said to be Wright's most personal design and also one of the most innovative designs. Architectural critics and historians list the David Wright House as one of the 20 most significant buildings by Frank Lloyd Wright. See below for additional pictures of this house. Photos from savethewrighthouse.org/gallery/
Wright died in 1959 at the age of 91, and designed over 400 structures throughout his prolific career. While it is inevitable that some structures have been destroyed, the David Wright House will be the first intentionally destroyed Wright structure in the past 40 years — if demolition plans are successful.
If you want to join the Frank Lloyd Wright preservation effort, signing the online petition at; http://www.change.org/petitions/city-of-phoenix-save-the-david-and-gladys-wright-house
The Frank Lloyd Wright Building Conservancy began working on the structure's preservation after it found out in May that developers purchased the David Wright House and planned to demolish the house to make way for two luxury houses. (For more information about the Frank Lloyd Wright Building Conservancy, visit www.savewright.org)
Real estate development company 8081 Meridian purchased the property from a buyer who previously promised that he would restore the house. The buyer sold the house, reportedly for $1.8 million. The asking price is now $2.2 million and the developer recently turned down a $2 million offer. The $2.2 million asking price could increase as the destruction date gets closer.
The Conservancy, a Chicago-based organization that works to preserve the remaining Wright structures, established a petition urging Phoenix officials to approve the structure's landmark and historic preservation designation.
In September the Phoenix Historic Preservation Commission unanimously recommend a landmark designation for the house. On November 7 the Phoenix City Council will make a decision on the structure's landmark status. A landmark designation would delay demolition for three years, giving the Conservancy additional time to locate a buyer.