At first glance Columbus, Indiana looks like many small Midwest cities. Light industry mixes with restaurants and small shops against a backdrop of farmland. However, in between cornfields and the Cummins manufacturing plant, Columbus IN architecture is a treasure trove that rivals major cities.
Columbus was actually ranked sixth (yes, sixth) in the nation by the American Institute of Architects for architectural design and innovation. Only Chicago, New York, Washington DC, Boston and San Francisco top this little city. Who knew?
Legendary architects I.M. Pei, Harry Weese, Richard Meier, Eero and Eliel Saarinen, Cesar Pelli, James Polshek, Robert Venturi – to name a few – have left their design marks on the city located 45 miles south of Indianapolis.
Columbus has been called;
a "veritable museum of modern architecture (Smithsonian Magazine)
"a small-town architectural mecca." (Chicago Tribune)
"one grand, landscaped park." (USA Today)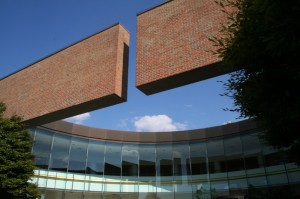 The Columbus Indiana architecture story began in the 1950s when industrialist J. Irwin Miller wished for a more visually interesting city to live and work in. Stating that "Mediocrity is expensive," the Cummins Engine Company chairman agreed to pick up the architect's fee for new public buildings, but only if the building were designed by a noted architect.
If money is no object, who wouldn't choice an internationally renowned architect? Schools, banks, libraries, fire stations, city hall, a jail and other public spaces and places sprouted under this philanthropic directive. To date there have been more than 70 public buildings designed by top modern architects.
Here are some of the buildings you will find on a Columbus IN architecture tour;
Fire Station #4 (Robert Venturi)
Cleo Rogers Memorial Library (I. M. Pei)
St. Peter's Lutheran Church (Gunnar Birkets)
Columbus City Hall (Skidmore Owings & Merrill)
Irwin Union Bank (Eero Saarinen)
Columbus shopping mall (Cesar Pelli)
Irwin Union Bank addition (Kevin Roche)
Clifty Creek Elementary School (Richard Meier)
First Christian Church (Eero Saarinen)
First Baptist Church (Harry Weese)
Columbus Regional Hospital renovation (Robert A.M. Stern)
North Christian Church (Eero Sarrinen)
Cummins Engines' Corporate Office Building (Kevin Roche)
Mabel McDowell School (John Carl Warnecke)
Miller House (Eero Saarinen)
Mill Race Park (Van Valkenburgh Associates)
SBC Switching Station (Paul Kennon)
If you find yourself just a little south of Indianapolis, carve out a couple hours to stop in Columbus. Guided architecture tour buses leave the Columbus Visitors Center daily. There are also self-guided tour maps are available at the visitor center.