This upcoming weekend I will be running the Chicago Marathon. Each year about 45,000 people line up to run this marathon. Another 1.5 million people show up to cheer on that sea of runners.
Runners commonly rave about the crowd support – it is unparalleled – or running through the energetic Chicago neighborhoods of Greektown, Chinatown, Streeterville, The Loop, Pilsen. The highlight for me is seeing architecturally important structures from a street-side vantage point otherwise rarely given.
This week I will give you a Chicago Marathon architectural tour, following the marathon course.
The marathon starts in Grant Park and spends a few miles downtown before shooting north to the Wrigleyville neighborhood. Many of the buildings highlighted will be found within the first couple miles, with today's post dedicated to structures found within the first mile of the marathon.

 The first structure is not a building, but a girder bridge that snakes and curves over Columbus Drive. Architect Frank Gehry designed this stainless steel and reinforced concrete pedestrian bridge that connects Millennium Park and Grant Park. The BP Pedestrian Bridge (named so because of the $5 million BP donated toward construction) opened in 2004. This is the only Gehry-designed bridge and he did it right. Look for this bridge (really, you can't miss it) within the first two blocks after the start line.
The second structure of note, Aqua at 225 N. Columbus Drive, is another relative newcomer to the Chicago landscape. Look for a skyscraper with undulating balconies that create a surreal ripple effect. This visually innovative building, opened in 2009, is the biggest U.S. project to date headed by a woman, Jeanne Gang.
While on Columbus Drive, a block before turning onto Grand Street, look for the NBC Tower at 454 N. Columbus Drive. This 37-story limestone tower, completed in 1989, is reminiscent of the 1930's Art Deco style. Architect Adrian Smith's romantic 20th-century tower was modeled after Manhattan's RCA Building at Rockefeller Center.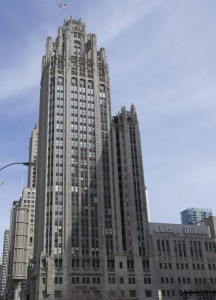 Just before the first mile marker, as you pass Michigan Avenue on Grand St, look to your left to see the Tribune Tower (435 N. Michigan Ave.). The tower base of this 34-story skyscraper contains 120 stones from landmarks around the world, including the pyramids in Egypt, the Parthenon in Greece, the Great Wall of China, the Cathedral of Notre Dame in France, the Alamo in San Antonio and the Taj Mahal, in India. This building, completed in 1925, was the result of an international design challenge to design "the most beautiful and eye-catching office building in the world." Did architects Raymond Hood and John Mead Howells succeed?
Check back on Wednesday for a list of buildings you will find in the second mile of the marathon.